Every year around this time, my heart pulls towards the re-birth of my garden. I'm a little bit of a hoarder when it comes to seeds and I start scrutinizing my 127 (!) packets of seeds and plan my spring garden. My love for sprouting things gives me great joy. I check on my seeds a couple of times a day just in case I missed something.
Celita and I ran down to Home Depot and picked up some herbs and flowers for the pots outside the office and then got them planted. Now we hope for rain! This year we decided to specialize in herbs. We have Greek Oregano, Dill, Sage, Sweet Basil, Lemon Thyme and Lavender, as well as a few other flowers for some color. We're hoping for a smelling fest of summer herbs this year. We will be happy to give you a few leaves if you'll plan on using them for cooking!
Our office neighborhood, Lindenwood Park, holds an annual "Lawn and Garden" contest every June and there is always a special mention for businesses that beautify their building. The Service Club is proud of the fact that we usually receive a special mention every year for our hard work. If only there was a contest for keeping a Christmas tree decorated all year with various themes! We'd win that hands down! If you haven't seen our latest design, come and visit us at the office and check it out.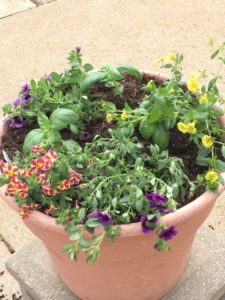 These are flowers in pots on the side of the building and over a walking hazard in the front of the building.
These are the herbs we planted in pots under our sign.