Around 12th Night, when the Christmas tree is traditionally supposed to be put away for the season, we didn't languish the idea of trying to fit it back into the box it arrived in. I really don't think it's possible to re-box items once they've been removed. I think it's a ploy of the big box stores to ensure you can't return it! To avoid packing it away we decided to re-purpose it!
We have been artfully creative and decorated "The Tree" (as it's now referred to) for each holiday and event. We are open to suggestions too! Once the Christmas decorations were packed away we turned it into a Valentine's Day tree, then came Mardi Gras, then St. Patrick's Day, then of course, Easter and for our latest pièce de resistance, the Cardinals!
Other plans are to represent summer, Memorial/Labor Day, then autumn, Halloween, Thanksgiving and back to Christmas. What are we missing? Do you have items that are theme related and "tree hangable" that you'd like to donate to us? We'd be happy to take them off your hands.

Valentine's Day tree

Mardi Gras tree

St. Patrick's Day tree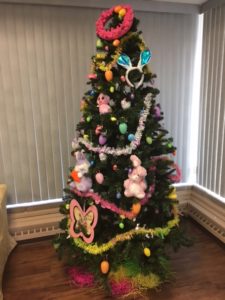 Easter tree

Cardinal's tree