With all the changes going on at the Service Club I forgot to upload my blog about the Book Club!
September 16th was the 7th birthday of the Service Club's book club – affectionately known as the Reading Ring. Over the years we've had a few changes of members, changed the day of meetings and changed the way we run the book club meeting.
Currently we choose an author and not a particular book. We have over 1,700 audible books in our library. All books were kindly donated to our library – some are in better condition than others, most are on tape but some are CD's too. We share our thoughts about the author and a little about the book we read and then, like at most book clubs, we eat!
The way we choose authors is that we all submit a couple of names of either our favourite authors or an author we'd be interested in reading. We put the names in a basket and randomly pick one after each meeting. We then have a month to read any book in any format (print, large print, Braille, audio). Most patrons choose to download their book of choice from the Wolfner Library or from their local library.
For our 7th birthday party, our author of choice was Kimberla Lawson Roby. I surprised the group and ordered a birthday cake for our "after meeting delicacy" and it was well received. I also decorated the area where we hold Book Club with birthday-themed tablecloths, balloons, and party hats.
Our Book Club meetings are held at the Service Club every 4th Wednesday of the month from 10am – 12pm.
Happy reading (and pretend this blog was posted in September…)!
  There's always food!
  Tables & decorations
  Book Club members
  Waiting for Book Club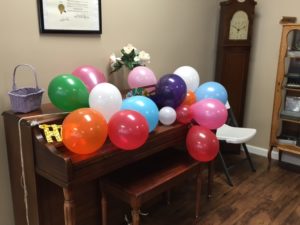 More decorations